Volkswagen Beetle Project
---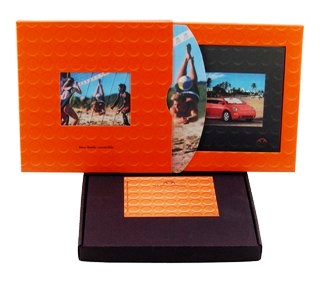 Charge:
As a way of introducing the New VW Beetle Convertible to the media, VW decided to put out a press release in the form of a brochure and DVD. Of course, we all know that the media gets bombarded with requests for publicity so we needed to come up with an idea that not only would get noticed but also fit in with the "spirit" of the new vehicle-innovative and fun! This 8.5" x 8.5" x .75" paperboard product was suitable to be a self-mailer but instead encased in a black corrugated FLM (front lock mailer) to really WOW the recipient once they opened the mailer. The process color graphics were printed on all visible areas.
Package design features:
--Slide graphics showing a continuous photo on front cover in paperboard.
--Pull-out panel beneath slide cover produced as "fun" lenticular image.
--Cavity under lenticular showcases double-wire bound product brochure featuring lenticular covers on front and back; solid black chipboard inside covers; and lenticular imaged DVD mounted with black foam dot.
End Result:
The design firm that produced this project for VW reports that their client was very impressed with the quality and perception that the mailer portrayed. Bottom line is that the vehicle received overwhelming response and favorable reviews.